You know, I seriously considered just calling this post "Busiek and Mignola's Final Fantasy" and then opening with a "Before you get excited..." but ultimately decided that would have just been mean. (As it is, it's already misleading to say "Busiek and Mignola", as Mignola was just doing the covers.)
Can't remember what made me think of it -- maybe it was when I was going through my searches and saw a bunch for both busiek and final fantasy -- but I recalled that Busiek had alluded to a cancelled Final Fantasy project. Now, Kurt's been damned active over on FormSpring, so I figured I'd ask him about it -- but then I figured hey, maybe I should actually do some research first.
Didn't find much, but there was a bit of discussion about it in a CBR thread called Series that Never Saw the Light of Day -- which is also where I first heard Mignola was the cover artist, and Dell Barras (who I'm not familiar with) did the interiors.
Busiek showed up in the thread and explained a bit about the series and what happened to it: it was for Hollywood Comics, a Disney imprint that "either never got launched or was killed off almost right away".
Most interestingly, he gave a short explanation as to when this was and which Final Fantasy(s) he was adapting:
This was so long ago that when I was first assigned the project, I did a story outline, and the people at Squaresoft liked it a lot, but said, "Uh, well, this is good, but we're about to do a new version of the game, can you revise it to be about FINAL FANTASY 2 instead?"

It required a top-to-toe restart, because the characters in FINAL FANTASY are footsloggers, ordinary soldiers and adventurers, while the characters in FF2 are princes and leaders and such, which makes for a whole different kind of story.

But yes, it was based on FINAL FANTASY 2, though Dell Barras's interpretation of the Japanese designs maintained basic designs but spun it into a very, very mainstream-American style.
That'd be the American FF2, of course, AKA FF4. I'm sure it would have been fun -- and featured better dialogue than the original SNES translation of the game.
Anyhow, after finding out those tidbits, I decided to ask Kurt this:
How far along was the Final Fantasy adaptation (or adaptations, since you had to switch games partway through) before being scrapped?
The first version was a detailed outline. The second was a complete script for all four issues, I think, plus lettered art for at least one and penciled art for one more. Four nice Mignola covers, too.
Niiiice.
Wonder where all that stuff went and whether anybody has it now. All I've seen is this ad, in the above-linked CBR thread (and presumably from the FF1 period):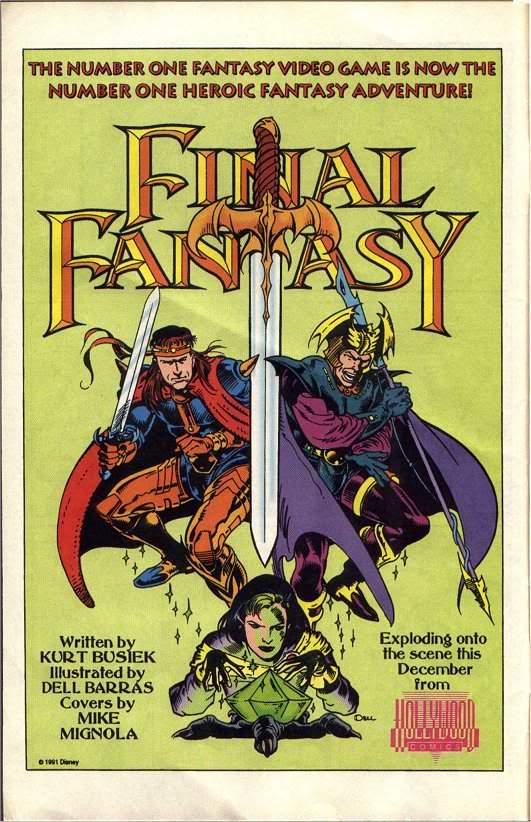 I haven't been able to find anything else, even any of the Mignola covers, which is a pity -- but hell, one more thing to add to my "things so obscure you can't find them on the Internet" list. (Course, if anybody can prove me wrong, do feel free to shoot me a link...)
(Update 2015-01-04: I now have the covers to issues #2 and #4; you can see them in the post Mignola Final Fantasy Covers. I still haven't seen #1 or #3, or any interior art.)
But via Robot Mutant here's a Joseph Dellagatta FF piece homaging Mignola, anyway: