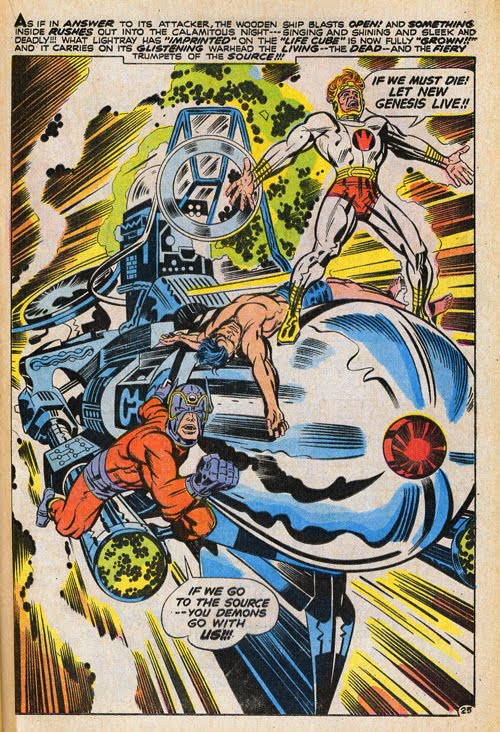 Scan found at Glass Walking-Stick in a Google Image Search
Today would have been Jack Kirby's 95th birthday.
I think it's safe to say that he was not only the most important figure in the history of superhero comics, but the most important figure in American comics, of any genre.
And according to Mark Evanier's afterword to Jack Kirby's Fourth World Omnibus, Volume 2 (now in paperback!), he drew that page up top in an hour.
Speaking of Evanier, he posted a remembrance today, along with Steve Bissette and countless others. Heidi MacDonald has a great selection of Jack's art, plus a photo of Alan Moore towering over him.
It's also Read Comics in Public Day.
But most importantly of all:
Jack's granddaughter Jillian has started a campaign called Kirby4Heroes, a fundraiser for the Hero Intiative. I've spoken of the Hero Initiative before, but to review: it's a charity that helps support comic book creators who are down on their luck. Unfortunately, there are quite a lot of those; here are some testimonials (including some from folks who are, sadly, no longer with us):
Kirby's legacy is not only as an artist, storyteller, innovator, and Man with Big Ideas -- he worked hard to make sure his fellow creators could make a decent living. Because in the old days many of them didn't -- and, sadly, today many still don't.