And continuing with Zappa and Kirby, here's...Zappa and Kirby!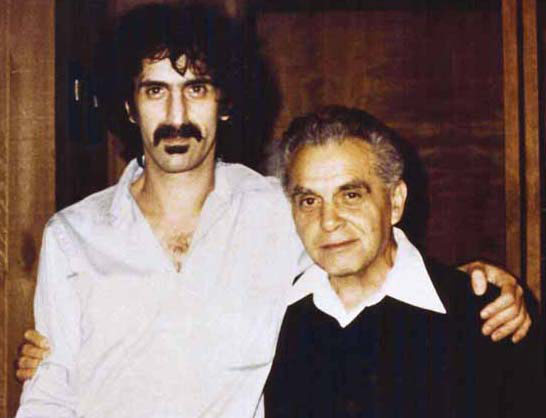 This one made the rounds back in aught-nine, after an article by Jeff Newelt at Royal Flush Magazine, who caught up with Ahmet Zappa to ask him about it.
The son of a gregarious rock star, Ahmet grew up meeting every celebrity musician under the sun. But it wasn't a rocker who gave Ahmet that first feeling of being around greatness. "I was not starstruck at all by rock stars because music is its own language and my father spoke it, so we spoke it," Ahmet explains matter-of-factly. "This totally demystified the fame or the celebrity. There was no currency for 'oooh, that guy sold a million records, we just cared about good music. One of the most significant moments in my life is when my dad said, 'meet Jack, he's the guy who created all those superheroes you love.' That blew my little mind. I thought it was awesome and weird that my dad had this friendship with this guy. It was like meeting like a real magician!"

[...]

"I remember Jack confided in Frank that he felt like the stories he created helped shape the Star Wars saga, that he saw direct parallels between his characters and the movie's story arcs."

Of all rock stars in the world, Zappa, famously an outspoken champion of free speech and artist's rights, was the ultimate sympathetic ear.

"He told my dad stuff like, 'Darth Vader was Doctor Doom and the Force is the Source' and that George Lucas ripped him off. Now this you may not know, and I was only a kid, but I remember learning at the dinner table that my dad was asked to write the music for Star Wars; he turned it down, he said he wasn't interested. That would've been really strange, the lives of us Star Wars fans woulda taken a different turn and that whole score woulda sounded like Tatooine Cantina music."
Give the article a read; it's also got a neat Rick Veitch illustration of Zappa as a Kirby-style superhero complete with outlandish headgear. Which is also available as a T-shirt at World of Strange!