I don't play many new games anymore. I played Spider-Man because it came with my PS4, but since I finished it I've switched to something a couple years older: Final Fantasy 15.
I haven't been playing it long, just...*looks at save file*...Jesus, twelve hours? Anyway, I'm on Chapter 3. And so far I'm really enjoying it.
I dig the setting. Final Fantasy has been doing this "let's juxtapose fantasy with a quasi-modern world" routine since 7, and it's a lot more fully-realized here than it was then. Still not perfect -- city planning does not work that way, guys; you don't pass the limits of a major city and immediately find yourself off in a big empty desert with only an occasional gas station; the transition tends to be more gradual than that -- but still, the dissonance is a lot less glaring than FF7's transition from Midgar to a big empty overworld.
Actually, to a large extent, the dissonance is what I like about it. Taking things that shouldn't go together and then mooshing them together. This is a game that starts off with...well, I can't seem to get the intro to embed (I suspect a music rights thing), but if you haven't seen it, check it out on YouTube.
As I was saying: This is a game that starts out with a barrage of fantasy tropes -- the king in his castle saying farewell to his son, who's leaving to marry a princess to secure peace with the Empire -- and then cuts to the party pushing a broken-down car while Stand By Me plays. It is instantly one of my favorite video game openings ever.
The game doesn't retain quite that level of quality throughout. But even where it falls short, I like it, at least so far. I like ambitious failures. Here's how Brent described it:
As long as you keep the "FF15 has been in development for 10 years" fact firmly in mind the whole exercise is interesting from a how-do-you-make-something-mostly-complete-out-of-this aspect.

Did you notice the one part of the game where there was supposed to be a rad as fuck boss but they only got as far as modeling and not rigging the rad as fuck boss so they had you go and take a look at how rad as fuck the boss's model is and everybody comments on how rad as fuck the model looks and then you get a cutscene explaining why you don't need to actually fight the rad as fuck boss and then you just fuck off?

Not gonna lie, I love stuff like that. It's like the best kind of soup, the "if you've got it, just toss it in the pot" kind.
I love stuff like that too.
And you know what else is overambitious about this game? Kingsglaive: Final Fantasy 15.
Kingsglaive is a movie that occurs before and during the first chapter of FF15. It fleshes out some major plot points -- in a way that's, frankly, kind of ill-conceived, because there's at least one major scene in FF15 that lacks some pretty important context if you haven't seen the movie.
Spoilers for Kingsglaive and the ending of the first chapter of Final Fantasy 15 follow.
At the end of the first chapter of FF15, the kingdom of Lucis falls. And in the game, you don't really have a lot of context about just what the hell is going on. You've never seen the Emperor or General Glauca before, and you're given little context for who they are. Clearly the big spiky guy stabbing the king is a bad guy, but...you're given no other information on who he is or what his deal is, except that the peace agreement was a ruse and Niflheim has sacked Insomnia.
Do you even see the general again? I don't know. He kinda gets incinerated at the end of Kingsglaive, but maybe he gets better. I don't know for sure, but...it kinda looks like the game shows a scary-looking dude murdering the protagonist's father, never explains who he is, and then maybe he never appears again? That's...not great storytelling. That makes Kingsglaive less an ancillary cross-media spinoff and more an essential part of the story that is neither included with the game nor explained by it.
But I'm underselling just how baffling the entire endeavor is.
Because shunting a major, game-changing event off into a spinoff movie isn't the weirdest thing about it. It isn't even the weirdest thing about that scene.
Because the climax of Kingsglaive -- the betrayal at the signing ceremony, the fall of Lucis -- is intercut with Nyx and Lunafreya fighting a giant monster. And not just any giant monster.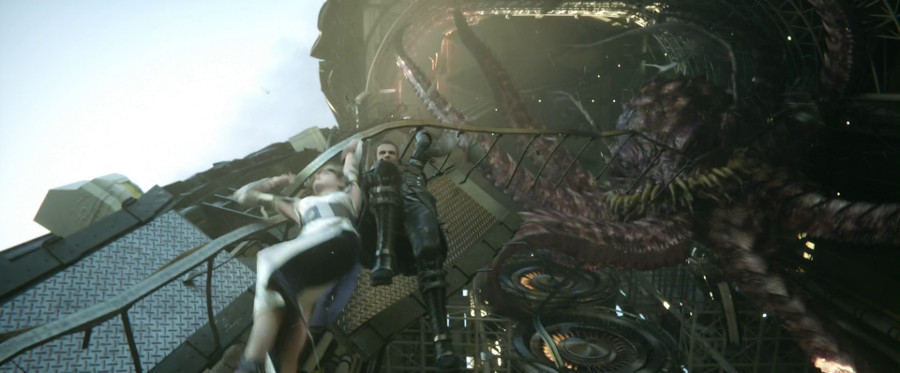 That's Ultros. From Final Fantasy 6. This guy.
The movie cuts back and forth between the fall of Lucis -- guards being stabbed, bombs dropping on the city, the Emperor pulling a gun on the King -- and the octopus who tried to drop a 4-ton weight on an opera.
It is insanely, spectacularly wrong, and it is absolutely hands-down my favorite scene in the movie.
How did this happen? What was the thought process here? "Newcomers to Final Fantasy will just see a generic monster. But longtime fans will be wracked with the giggles!"
Obviously Final Fantasy is self-referential as all hell, and some of that was to be expected. But there's a pretty big difference between, say, playing the main Final Fantasy theme as background music early in the movie, and introducing Ultros during the climax.
But there's also something quintessentially Final Fantasy about it. This series is chock-full of sudden and inexplicable tonal shifts. I've talked about this before, back in my Final Fantasy 7 and Iconic Images post in 2011: FF7 goes from Barret's somber battle to the death with Dyne straight to chocobo racing. Bombs dropping while the heroes fight a tonally-inappropriate Easter egg? Just like the games!
And something that weird and singular saves the movie from being boring.
Because Kingsglaive is boring. It's very pretty; as a two-hour tech demo, it definitely demos the tech. But the characters are thinly-sketched, the villains' motivations and the plot twists don't make a whole lot of sense, and the climax feels like a Godzilla movie without the fun or the charm. It feels like the movie is focused entirely on showing really cool locations, monsters, and fights. It does that. But not much else.
In its own way, the Ultros fight is one more of those striking juxtapositions I like so much. Final Fantasy 15 starts out with high fantasy tropes and then immediately swerves into being a road trip movie. And Kingsglaive intercuts the serious and the silly. It doesn't really work, exactly, but I still love it.
There's an old Simpsons line where Marge tells Homer she doesn't hate him for failing, she loves him for trying. Whatever FF15's faults -- and I'm sure I'll find more of them as I get farther in the game -- they seem to be the result of overambition. And you know what? That's a good kind of failure. An interesting kind. Square Enix tried some things nobody else had ever done here. In some cases, at least, it turns out that there's a good reason nobody else has done those things. But if you're going to mess up, at least find a new and interesting and, perhaps, spectacular way to do it.