I've been talking about fanboys and entitlement. It's kind of amazing the extent to which fans can be territorial and proprietary about characters they don't actually own or control.
To wit: you've probably heard the phrase "That's not my Batman."
The wonderful thing about Batman is that he is, quite possibly, the most versatile superhero in all of comics. (The most versatile supervillain, on the other hand, is Dr. Doom, and Chris Sims did a great job of laying out the reasons why in a recent column.) He's been around for close on 75 years and has, in that time, appeared in virtually every kind of story. You've probably got a "your Batman", the one you consider definitive and canonical -- and it's probably the one from when you were a kid. I'm no exception -- more on that in a moment.
I saw an Amazon review of the Arkham Asylum game that gave us this great bit of That's Not My Batman:
No, this is not the BAM, WHAM, KA-POW batman you saw David West in and it's not the weird new batman from Batman the Brave and the Bold cartoon and that is such a relief !!
This is the TRUE Batman, the one Bob Kane had in his mind even in the late 30's[.]
Yes, who could forget the famous Batman TV series starring David West? It was a huge departure from the TRUE Batman who Bob Kane had in his mind in the late 1930's -- you know, the one who wore a red costume, wings, and a domino mask, and was called Bird-Man, because that was Bob Kane's pitch until Bill Finger suggested some changes. (There's more on the origins of Batman at Dial B for Blog, and I strongly recommend the book Men of Tomorrow by Gerard Jones.)
Of course, the funny thing is that the guy who wrote the script to Batman: Arkham Asylum, Paul Dini, also gave us the following exchange (on Batman: The Brave and the Bold, the one with "that weird new Batman" -- specifically, in the episode Legends of the Dark Mite):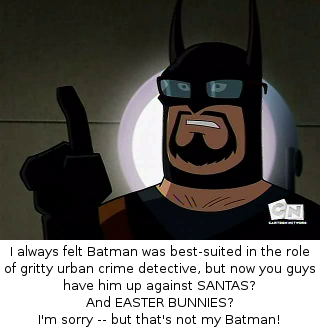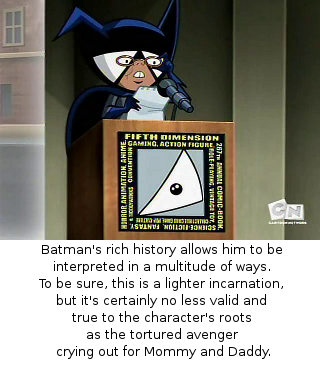 (You can see the clip on YouTube, too, but the uploader prevents embedding.)
Because Dini doesn't just understand that there's more than one "valid" interpretation of Batman, he excels at jumping between them. He's a true chameleon like few Batman scribes in the character's history -- Grant Morrison springs to mind, as does Bill Finger himself, who wrote everything from Batman's earliest appearances and origin story to a two-part episode of that "BAM, WHAM, KA-POW" TV series with Adam "My Name is Not Even Remotely Similar to David" West.
And the funny thing is, playing Arkham Asylum, I've realized something: this isn't my Batman.
He sounds exactly like my Batman. And the Joker sounds exactly like my Joker. And the writing sure sounds a lot like my Batman too.
But it's meaner. It's more violent. An asylum littered with the bodies of murdered security guards. Batman himself sticks to the "no killing" rule in this version (unlike, say, the Burton movies), but he's brutal. The game features fetishistic slow-motion beatdowns that look like something out of the Watchmen movie; Batman may not kill, but he snaps bones and smothers perps until they lose consciousness.
Don't get me wrong -- I like the game. It plays fantastically; it's expertly designed, fun as hell, and it fits Batman -- at least, a version of Batman.
I guess that's what this comes down to: I can recognize a Batman as Not My Batman and still enjoy and appreciate it.