I closed Part One of my Final Fantasy 7 retrospective by saying that the Phoenix Rejuvenation Project, a mod designed to replace all the super-deformed field character models in the game with more detailed and realistically-proportioned ones, was the product of a lot of hard work by a lot of talented people...but just a bad idea on principle. The reason I believe this comes down to one essential point:
Final Fantasy 7 is ridiculous.
Now, the game has a huge fanbase, most of which was captivated by its epic story, cinematic atmosphere, and shocking moments. And I think that, given those elements, people tend to forget exactly how damn silly it is.
Here's an example. You're following Sephiroth -- the man who left a trail of blood and bodies ending in a dead President, a man who burned the heroes' village to the ground -- and his trail leads to...an amusement park. After you get your fortune told by a talking stuffed cat, and optionally ride the roller coaster and play an arcade game about the mating habits of Moogles, you find another trail of blood and bodies, these cut down by machine-gun fire. It's briefly implied that your colleague Barrett is the killer, but it turns out it's actually his best friend Dyne. Dyne's gone off the deep end and just wants to burn everything down; when he hears his daughter is still alive and Barrett's adopted her, he threatens to kill her and Barrett has to kill him first.
And then you go race a Chocobo.
Seriously. That is not an exaggeration. At all. The delay between Barrett having to gun down his best friend in order to protect his daughter and Cloud becoming a jockey in a race between giant pastel-colored birds is approximately thirty seconds.
The tone of FF7 shifts so often and so wildly that if you think too hard about it your brain will get whiplash. Do I even need to get into Wall Market and Don Corneo's Mansion? Do I ever want to see a realistically-proportioned Don Corneo thrusting his hips at me? (Actually, I looked for one from the Rejuvenation Project to inflict upon you, my audience, and couldn't find one. Maybe they don't want to see it any more than we do.)
And I can't stress this enough: one of your party members is a talking stuffed cat.
Final Fantasy games, at least since the 16-bit era, are a delicate balancing act of the serious and the silly, and 7 is probably the one that shows that contrast most clearly. And key to its balancing act is its use of exaggerated, iconic character models.
In the essential Understanding Comics, Scott McCloud explores the power of simple, iconic images: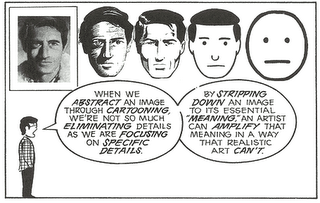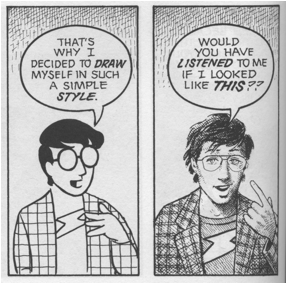 It doesn't just apply to comics, of course; it works for any form of cartooning. Similarly, a few years back some dumbass critic wrote a review of Monster House where he loudly proclaimed that it was the most important animated film of all time, and summarily dismissed the entire history of animation on the grounds that, prior to performance capture, cartoons couldn't truly convey emotion. I'm convinced he was just trolling, but Amid Amidi at Cartoon Brew tore him a new one across multiple blog posts, including one with this side-by-side comparison: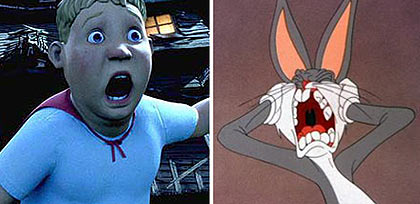 One's got a dead-eyed Uncanny Valley face, and the other one is Bugs goddamn Bunny. Bugs is an enduring icon who is recognized the world over and has remained popular for over 70 years, whereas Monster House...well, did you even remember what Monster House was when I mentioned it?
The point is, in cartooning, you take essential elements and exaggerate them. FF7's chibis do that: little bodies, big heads, and exaggerated movements in a story that is itself bigger-than-life. The Phoenix Rejuvenation Project injects more realistically-proportioned figures into those same exaggerated movements and bigger-than-life story, and the result is a pretty clear clash: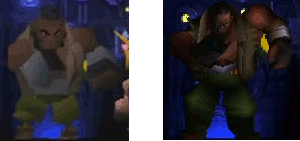 FF7's field models lack even the basic facial emotions of FF6; each character has only one unchanging facial expression, and emotions are conveyed through exaggerated movement. In the Phoenix Rejuvenation Project, that doesn't change -- and it's a lot easier to accept a static facial expression when it's just a couple of lines and dots than when it's more fully formed, easier to accept ridiculous arm-waving from a squat little Playmobil man than one who's more reasonably proportioned.
And even if they could somehow take all that out, give the characters emote animations that fit their new models, you'd still have the Honeybee Inn, Sephiroth tossing people around like ragdolls in Nibelheim, Yuffie leaping across the screen, and, oh yeah, a talking stuffed cat. There are large swaths of the game that simply cannot be made to fit this art style.
I'm not opposed to overhauling FF7's field graphics by any means -- but Team Avalanche has the right idea: keep them chibi, just make them smoother and more detailed chibis.
Of course, even that approach is fraught with peril; FF9 tried it and we got a leading lady who doesn't look like a detailed chibi so much as, well, a dwarf.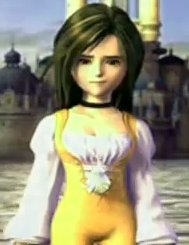 ---
Next time: An attempt at a thorough critical analysis of Final Fantasy 7, what it did right and what it did wrong. Combat! Love triangles! Japanese nuclear anxiety! Recurring themes, both literary and musical! Keep goin'? Off course!
And in the meantime, don't forget to join the discussion currently raging at Brontoforumus!