Last August, Mark Waid and Jeremy Rock at The Gutters treated us to Mark Waid's 4 Panels that Never Work. It included some funny bits like the following: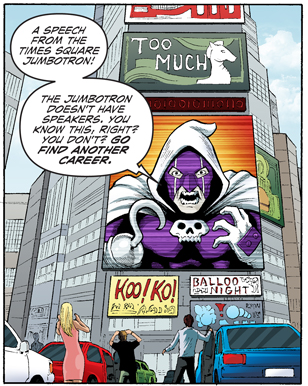 It's a good point. I laughed. But here's the thing. It opens up Waid to his own share of good-natured ball-busting when he does shit like this, from Insufferable #29 (art by Peter Krause):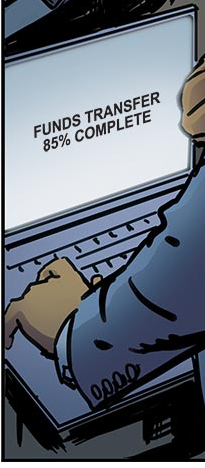 What the fuck is that, Mark Waid? Why is the funds transfer at 85%? Is it transferring the money one dollar at a time?
Mark Waid, you are a tech-savvy man. I am confident that you have, at some point in your life, done some online banking or purchased a product from Amazon. You know financial transactions over the Internet do not work like that. They either succeed or they fail. There is no such thing as a partial transfer, and it does not actually take longer to transfer a million dollars than it takes to transfer one dollar.
Now, there are things that might make your connection to another site slower -- say, if the character was using some kind of Tor-like program to cover his tracks -- but even still, while he was waiting he'd just be seeing a spinning ball or a "Please wait..." dialog or something like that. It wouldn't have a percent with it, because there is no such thing as partial completion for such a request; it's either finished, waiting to finish, or timed out waiting.
(Now, I suppose that if the money were being sent to multiple different locations, that could be done through some kind of custom script that would update a percentage-amount every time it completed a transfer. But #34 seems to imply that is not what is going on here and the money did indeed all go to one place.)