As I mentioned a couple weeks ago in my post about the Humble Forbidden Comics Bundle, I bought the bundle partially because I'd been meaning to read Essex County. And now that I've read it, I can say with confidence that it was worth the $15 all by itself.
Essex County was the breakhout hit for cartoonist Jeff Lemire; he went on to do Sweet Tooth (which is where I first discovered his work and became a fan), and then to become a pretty big name at DC and Valiant. Last I heard he was acting as more of a story architect across multiple titles and less of an artist on his own, smaller work; it's wonderful to see his success but I have to admit I miss his art and his originality.
So I gave Essex County a read. And I haven't read a comic like it in years. I think comparisons to Love and Rockets are inevitable -- it's a character-based work of magical realism focusing on families over generations, with a vibe of loneliness and melancholy, and its setting is an essential component in establishing its tone -- but it's not Love and Rockets. The most obvious difference is in the art: Jeff Lemire doesn't do the smooth, clean lines of Los Bros Hernandez; his work is rough, angular, and jagged. The people in Love and Rockets are beautiful; the people in Essex County are not.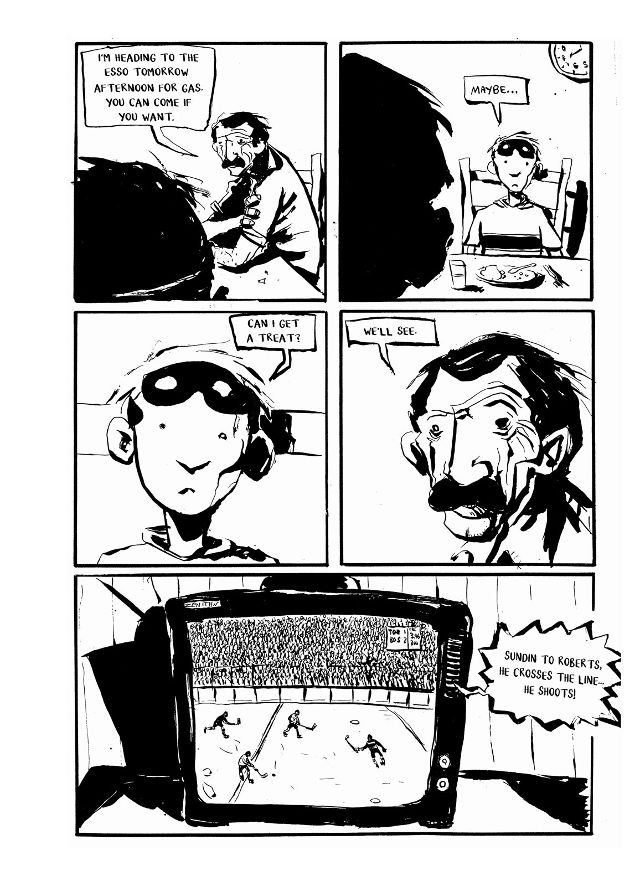 But it's not just Lemire's art that strikes a different tone than the Hernandezes'; it's his setting. Gilbert Hernandez's Palomar may be a small town, but the streets always seem busy, and his later stories (as well as Jaime's) mostly take place in and around LA. Love and Rockets has a huge cast of characters, and it did even in the early days before 30 years of continuity piled up.
Essex County takes place, mostly, in rural Canada, on small family farms. There is one section in the second book, Ghost Stories, which takes place in Toronto; the cast is briefly packed with enough supporting characters to form a hockey team. But, before long, those characters drift away, and while Lou Lebeuf stays in the big city, he finds himself lonely despite the throngs of people around him.
And, to a large extent, Essex County is about loneliness. Lester is lonely because his mother died, he never knew his father, he's moved to a farm to live with an uncle he barely knows, and the other kids make fun of him. Anne is lonely because she works long hours, her husband is dead, and her son barely speaks to her. Lou is lonely first because of his self-imposed exile from his family, then because he goes deaf, then because he outlives everyone he knows, and finally because he gets Alzheimer's. The wide, open, snow-filled spaces of Essex County externalize their loneliness and isolation, but they're not the cause -- at least, not the only one.
These three stories aren't happy, I don't suppose, though they've got moments of happiness. And I think, really, that's what they're about: find those moments of happiness. Find a connection with someone when you can.
Or maybe I'm off-base. Maybe that's not what the book is about at all. For all that it shows that those connections are precious, it shows how fraught they can be. Lou's problems start when he connects with somebody who he shouldn't. Lester doesn't know his father because two people made a connection that they couldn't sustain. Life is like that; it tends to defy simplistic morals.
And that's what Essex County is about, really: slices of life; moments in time. And families, and history.
And hockey. There's a whole lot of hockey. This comic is Canadian as fuck, eh?