I'm not what you'd call an audiophile, but I know what I like.
I've got an HTPC I use as my primary media box. And for the past two and a half years, my surround sound speakers have been a set of Creative Inspire 5300's connected to it. They're perfectly good PC speakers (and were $80 when they were new), but as far as home theater, they're a bit lacking.
So, after months of research and scanning for deals, I got me a receiver and a new set of 5.1 speakers.
The receiver is the Onkyo HT-RC360, which Fry's had marked down from $550 to $300 for Presidents' Day. Now, three things:
I have been keeping an eye on Dealzmodo, TechDealDigger, and TechBargains for months looking for a deal like this -- and none of them had this deal listed. This discovery was entirely the result of my deciding, on a whim, to check the Fry's site. Which is even more notable because
I had been at Fry's, looking for a good deal on a receiver, the previous day, and not seen this. I know they had it in stock, because I picked it up in-store, but it hadn't been on display, nor had I seen it listed in the newspaper clippings upfront listing their weekend deals.
Oh, and of course three days later the Sony equivalent got marked down to $215 on Amazon. But that's okay; this is the sort of thing you come to accept as inevitable in any kind of major hardware purchase, and anyway from the reviews the Onkyo sounds like the better device.
Talking of reviews, I couldn't find any professional ones of the RC360, which made me nervous. But I gathered from Cnet that it's roughly equivalent to the TX-NR609. I'd been looking at the 509, but its lack of OSD and HDMI upscaling gave me pause. Those features aren't make-or-break, but with the RC360 marked down to $300, it was only $75 more than the 509 -- plus it's got 7.1 support. For that price, I may as well buy something a little better and more future-proof.
I had also noted that most of the demo rooms at Fry's used NR509 mixers. While I don't always credit Fry's employees as the best judges of what makes a good product demo (the first thing you see when you walk in the front door is an expensive bigscreen plasma TV inexplicably playing a movie at an eye-searing 240Hz), I thought this was probably significant.
And while I was nervous about buying a speaker set I hadn't actually tested in the store, ultimately Cnet's review of the Monoprice 8247 won me over. The short version: you can get better speakers, but only if you pay four times as much. (An aside: I stopped reading news.com.com some time ago after their reporting became indistinguishable from the trolls in the comments section -- I was going to say "except with better spelling", but nevermind -- but their reviews section continues to be pretty great.)
Anyhow, the speakers came in and I wired them up. It's not pretty just yet -- for now the rear speakers are just sitting on end tables, with their cables blue-taped to the wall, but in the next few weeks I plan to get somebody over to run cable through the attic and mount them properly on the wall. (I'd run the cable myself, but asthma tends to limit one's desire for attic-related adventures.)
One minor gripe: the Monoprice page for the speakers recommends pin-type speaker plugs, but the wire-in-back type I ordered from them is too long; it won't fit in a speaker that's lying flat. It should work fine in one that's wall-mounted, and maybe the wire-in-side type will fit. I might try ordering a couple of those the next time I get something from them, though $2 speaker plugs aren't really worth ordering by themselves. So, bare wire for now -- not like I can hear the difference.
Once I got everything hooked up and configured, I fired up Back in the USSR to verify that the speakers were working, and then straight to the Bridge of Khazad-Dûm scene in Fellowship of the Ring. (This was the point at which my fiancée came out of the bedroom to complain that I was making the house shake. I like to think this was her way of saying "Great job on purchasing and setting up an awesome sound system, Honey!")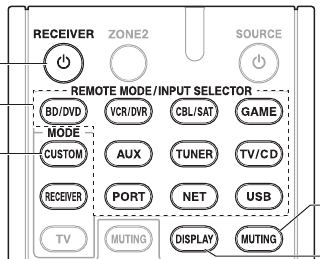 From there I hooked up the rest of my various devices. The Onkyo remote has the now-typical problem of a shitload of different inputs with sometimes arbitrary names -- "GAME" works fine for the component switch connected to my Wii and PS2 (another aside: I wish the thing had more component inputs so I wouldn't need a component switch at all -- but obviously analog is on its way out and I'm sure in a few years I'll have enough HDMI devices that I will be grateful for the emphasis on the new input over the old), but, absent anything resembling "HTPC", I have my HTPC connected under "BD/DVD". My seldom-used DVD/VCR combo is under "VCR/DVR", and my TV audio is connected to "TV/CD", which inexplicably is not the same button as "TV"; the "TV" button can't actually be assigned to any audio input. (I guess people connecting the audio output of their TV into an input on the receiver are probably a rarity; most people have cable boxes which they can connect to the receiver and then output to the TV. But I don't have cable TV, and we sometimes watch broadcast TV. Such people do exist!)
Also: this receiver is the only appliance I have ever bought that came with a GPL compliance notice in the box. This is one more piece of good news on future-proofing: my old TV is no longer supported, its firmware is no longer updated, and it has some annoying bugs (namely, every time it can't tune a channel in it drops it, meaning you effectively have to rerun the channel search every time you move the damn antenna -- again, developers just do not even consider people who watch over-the-air TV at this point). The Onkyo receiver not only supports more features and inputs than I need, its use of open-source software means it can continue to be updated even after its official end-of-life (unless, of course, there are some kind of TiVoization shenanigans at work).
Speaking of my 2005-vintage TV, it's probably the next major piece of equipment I'd like to replace, but it does have one feature I like: an "Automatic" zoom that will upsize the picture beyond the standard 4:3/16:9/"super zoom" presets and zoom the picture until there is no black border anywhere. This is especially useful for the PSP, which outputs games at a weird little 480x272 format that appears as a tiny little windowboxed picture even under most zoom presets. Unfortunately, the receiver's upscaling messes with the TV's "Automatic" zoom; it'll resize the PSP picture vertically, but that still leaves it pillarboxed and vertically stretched. That left me back at wiring the component output of the PSP directly to the TV and leaving the audio hooked into the receiver -- this largely defeats the purpose of upscaling since I'm back to switching TV inputs for different devices, but that is, of course, a minor inconvenience.
And that, incidentally, is the draw of upscaling for me -- I don't really expect the filters to increase my picture quality, but it does mean I don't have to switch from HDMI to Component 1 to Component 2 to whatever on my TV. (Actually, talking of quality, there were visible vertical lines on the PS2 picture -- but I couldn't see them from the couch, and I'm not sure if that's the fault of the receiver or the connection. I've had the PS2 and the cable for some time and I think the connection must be worn, as when I first turned the PS2 on I got audio but no picture; I wiggled the connector in the back and that's when I got a picture with faint lines on it.)
Now I've gotta figure out what to do with those Creative speakers. I'd like to hook them up to my desktop, but Apple is allergic to standards, and you can't actually get analog surround to work on a Mac without some kind of adapter.
---
Playing: Tactics Ogre: Let Us Cling Together. You know what else the receiver has? A shitload of presets for audio levels. It doesn't just have a preset for games, it has different presets for different genres -- RPG, Action, etc.
Reading: The Light Fantastic