Boy, it's been awhile, hasn't it?
I got sick, and busy. This post is about the Weird Al song I Remember Larry, and I originally intended to post it to coincide with Nathan Rabin's entry on I Remember Larry in his The Weird Accordion to Al series. That went up on December 20. So...yeah, I've been sitting on this one awhile.
---
In 1996, I moved back to my hometown and started high school. I met some new friends and started hanging out with them at lunchtime.
One day, one of them handed me his Walkman and his headphones and told me I had to listen to this song.
The tape was Bad Hair Day. I was something of a casual Weird Al fan by that point; I'd heard Amish Paradise and Gump. I may even have bought the Gump single by that point; I'm not sure. But I don't think I'd heard any of the other songs on the album, and I'd certainly never heard the one my friend played for me that day.
It was I Remember Larry and my friend was right: it was funny. It's one of Al's cheerful, upbeat songs that ends in murder (I don't think I'd heard Good Old Days yet at that point, but it's certainly reminiscent of that earlier song, albeit bouncier and featuring a much more relatable protagonist).
Some sixteen and a half years later, the kid who played I Remember Larry for me on his Walkman performed my wedding.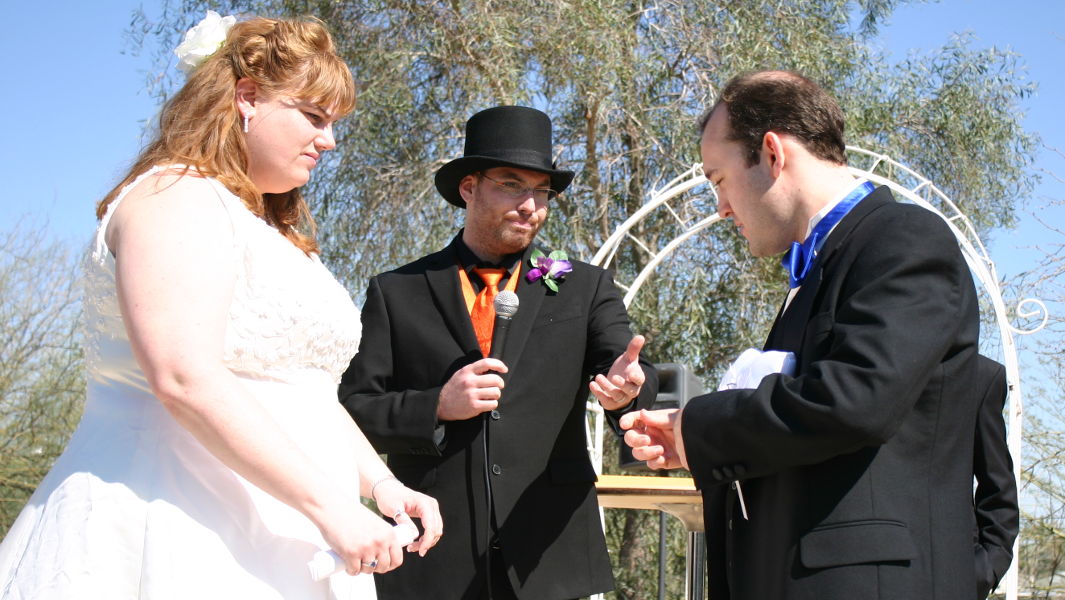 Now, I'm not saying there's a clear path from point A to point B here. I'm not saying that Brad and I became and remained close friends because of I Remember Larry. But I suspect our mutual appreciation for pitch-black humor wrapped in an ironically cheerful veneer is a big part of why we clicked.
He had me keep listening through Phony Calls and The Night Santa Went Crazy, too.